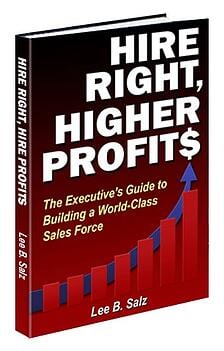 Thinking about hiring any new salespeople in the not-too-distant future? Or are you still suffering from a bad hire? If so, check out my interview with Lee Salz, onboarding expert and author of Hire Right, Higher Profits. I know you'll get some good ideas.
(Note: Click here to download a sample chapter. Or get it now on Amazon. Right now, it's the #1 ranked sales/sales management book on Kindle!)
JILL: In your new book, you introduce the concept of thinking of a sales team as a revenue investment. What do you mean by that?
Lee Salz: Imagine a sales manager came up with an incredible idea to drive revenue which costs $25,000 to implement. How many hurdles would she have to jump through to get approval to proceed?
Now, imagine that same sales manager preparing to hire an inside salesperson with a base salary of $25,000. In most cases, there isn't nearly the same level of scrutiny for that sales hire.
However, if you consider the purpose of both the idea and salesperson, the intent of both is to drive revenue. They are both investments the company is making in revenue, but most companies don't perceive them that way.
JILL: You also take a rather unique stance in the book by saying, "There is no such thing as a great salesperson." Why do you believe that?
Lee Salz: I'm often taken to task on that statement, but I can prove it. How many so-called "great salespeople" have you hired, but they failed in your company? If they were great salespeople, then you must subscribe to one of the following given their failure.
Either the salesperson arrived at your company and completely forgot how to sell – OR –
Your company is the absolute worst company to sell for in the history of business.
Which one is it? There couldn't be another explanation if you believe in great salespeople.
The issue is that greatness isn't a standalone quality, but rather an attribute of the relationship between a salesperson and a specific sales role. How else could you explain a salesperson being a rock star in one company, but a flop in another – or the converse?
JILL: I was intrigued by your position on hiring salespeople from the competition. Why should executives be cautious when hiring from competitors?
Lee Salz: There is an executive dream which sounds like this. "I hire the competitor's top salesperson. She arrives at my company and brings $1M in revenue with her…while I master my golf swing."
While that's a nice dream, it's rarely a reality. Executives often see the competition as their best source for sales talent. And they blindly pursue those reps without considering the match to their company.
JILL: So what should executives be looking for in salespeople as they consider them for a revenue investment?
Lee Salz: Before a company can consider candidates, the executive team needs to take a 360-degree look at the role – a process I call the "Revenue Investment 360."
During this evaluation, every factor that leads to sales success or failure is analyzed for level of impact. This leads to the development of a Performance Factor Portfolio for the role. Each candidate is then compared and contrasted with the portfolio in search of matches.
This changes the sales hiring game from solely looking at closing and prospecting skills as success measures. After all, if those are the sole measures of success, identifying the right candidates for a revenue investment is simple.
JILL: You talk a lot about sales onboarding in the book. I know there are several definitions of onboarding. How do you define onboarding?
Lee Salz: There is a common misconception that the output of the hiring process is the identification of a great salesperson. It's not. The output is a salesperson with the potential to be great in a specific sales role for the company. That potential is only recognized when a bridge program is put in place that connects the salesperson's knowledge and skills with proficiency in the role.
Onboarding is the bridge curriculum and measurements that ensure mastery has been acquired by the new salesperson. Without sales onboarding, companies immediately put their new revenue investment in jeopardy. However, companies that have developed sales onboarding find that their salespeople get up to speed faster, sell more…and at higher price points.
JILL: If a company wanted to launch a sales onboarding development initiative, where should they start?
Lee Salz: Most executives begin the sales onboarding development project by inviting a bunch of colleagues to a meeting where the discussion focuses on one question: "What are we going to include in the program?" In other words, they start the initiative by considering curriculum. The two issues with that approach are: 1) Curriculum can be added for an eternity; and 2)There's no way to gauge if the program serves its purpose.
The best place to start is at the finish line - by identifying expectations. Imagine you had a salesperson who is described as having successfully completed the onboarding program.
Because she is described as having successfully completed it, there are now expectations of her. What are those expectations?
What is she expected to KNOW (i.e., product knowledge)?
What should she be able to DO (i.e., conduct a sales call)?
What should she be able to USE (i.e., CRM)?
The expectations portfolio drives the curriculum development process. This keeps the program finite, on track and focused on its true purpose which is to get new salespeople up to speed, fast.
JILL: In your opinion, what is the right duration of a sales onboarding program?
Lee Salz: There is a common perception that 90 days is the right duration for a sales onboarding program. Given the different sales backgrounds that salespeople have, the various roles (inside sales, outside sales, etc.), how can there be a standard duration for a sales onboarding program?
The counsel I give to clients is that the program should be long enough to ensure every one of the expectations (KNOW – DO – USE) is achieved by the participants. It could be 10 days. It could be 100 days. It could be 200 days. The timeline driver is the expectations portfolio.
JILL: Thanks a million, Lee. And readers, click here your copy of Hire Right, Higher Profits. Also, when you buy it, you'll also get Lee's virtual training class, "Get Your New Hire Salespeople Up to Speed ... Fast!, a $99 value.
About Lee Salz

Lee B. Salz is a leading sales management strategist and Founder of Sales Architects®. He specializes in helping companies hire the right salespeople, effectively onboard them and align their activities with business objectives.
Using his sales architecture® methodology, Lee's clients migrate from being "people-based" to "process-based" resulting in explosive, profitable growth.