Today's overwhelmed buyers don't care about what you're selling. They only care about what it does for them. That's why value propositions are so important today.
What is a Value Proposition?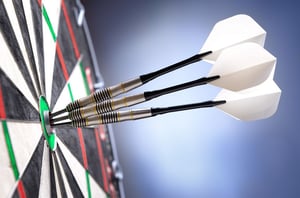 A value proposition is a clear statement about the tangible business results that similar customers get from using your product, service or solution.
This is crucial because your biggest competitor is the status quo—or how your buyer's company gets things done today. Change is tough. It requires effort, education, analysis, consensus, justification and implementation.
So you have to pique their curiosity upfront with a strong value proposition. For example, it was easy for me to set up meetings when I used this value proposition:
"I help companies crack into big accounts and shorten sales cycles. A recent client had an 87% success rate in getting into the largest companies in the US."
Here are two other strong value propositions:
We help retailers increase their online sales conversion rates up to 58% and their average order size by 25%.
We help distributors reduce their order-to-cash processing costs by an average of 67.2% at the same time they increase customer satisfaction.
To craft a strong, buyer-enticing value proposition, make sure you include these three elements.
1. Business Drivers
Determine the primary business reasons that buyers would use your offering. This is what they really care about—and, how their own performance is measured. Here are some examples:
Productivity
Turnaround time
Onboarding
Sales velocity
Lead conversation rates
Cost of goods sold
Operating costs
Downtime/uptime
Profitability
2. Movement
People won't change unless your offering is significantly better than their status quo. A strong value proposition always includes movement such as:
Increase / accelerate / strengthen
Decrease / cut / reduce / eliminate / minimize
Enhance / improve / maximize
3. Metrics
Adding metrics makes your value proposition even stronger and more believable. Don't round your numbers either. They're more believable that way. You can include any of these:
Time frame
Dollar amount
Percentages
Once you get clarity on your value propositions, use them in emails, voicemails, early conversations, presentations and demonstrations. It's what gets you in the door. And, more importantly, it's what inspires your buyers to take action in their own company—and ultimately to do business with you.