Looking for a new sales job right now? According to research by Glassdoor, 45% of salespeople plan to start their search in the next three months and 68% want to switch in the upcoming year.
Wowza! That's a whopping number of you who are open to new opportunities. It also means you'll probably have tons of competition for any good position you find.
How do you stand out from the crowd?
Sales leaders are looking to hire self-starters. Of course, every salesperson describes him/herself that way ... but very few demonstrate it during the interview process. If you can, there's a high likelihood you'll move yourself into the front runner position.
The key? A 90-Day Sales Plan. It's a topic I cover in-depth in AGILE SELLING because it's so crucial to shortening the ramp-up time in a new job. You can also use it in the interview process to show that:
You're a savvy seller who plans ahead.
You have a good grasp of what it takes to succeed in a new position.
You take the initiative, going beyond what's required to close the deal.
While writing AGILE SELLING, I looked online for an actual 90-day sales plan to share with you. My search ended when I found this fun one by Gordon Green.*
He used it during the interview process to demonstrate his knowledge and initiative to potential employers. To really stand out from other applicants, he weaved his military background throughout.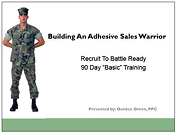 Click to download Gordon's 90-Day-Sales-Plan now.
Check out the "basic training" program this "adhesive sales warrior" put together.
Discover how he plans to get battle ready in just 90 days.
See why he got the job – and was ready to dig in on day one.
If you want to land that new job, invest time preparing a 90-Day Sales Plan. Get your act together and get going!
*Gordon Green gave me his permission to share this with you.