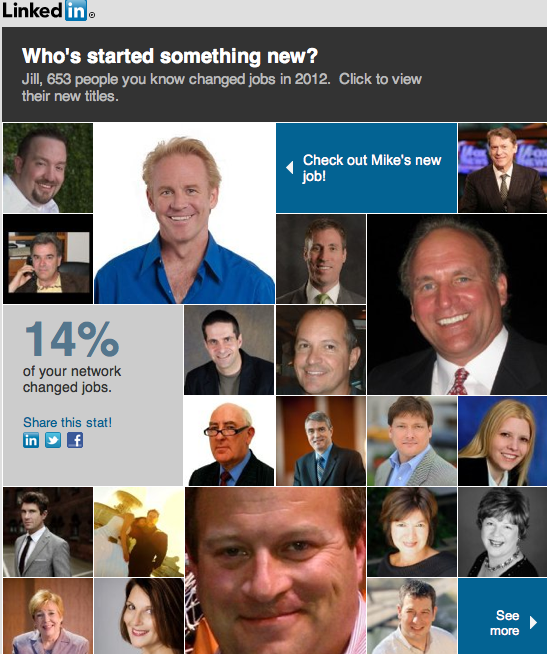 I recently got an email from LinkedIn. The subject line read: "See Mike O'Neil's new job, plus 652 other changes in your network." Curious, I opened it.
At the top I read, "Jill, 653 people you know changed jobs in 2012. Click to view their new titles." And there, smiling out at me, where a whole slew of familiar faces. When I clicked on a photo, it took me right to that person's profile.
Here's the deal. People in new positions create sales opportunities. It's a major trigger event*. Think about it.
Happy clients who go to new organizations can replace their existing vendor with your products/services.
New decision makers within your customer base suddenly make you vulnerable to competition.
Prospects who loved you but couldn't get their companies to budge from the status quo now have a fresh chance to bring you in.
When you see changes like this, take immediate action. But don't wait for the year-end LinkedIn summary. Keep your eye on their status updates so you can be a first mover. You can also create a "Saved Search" for key positions you regularly contact. And, you can use LinkedIn Signal to ensure you don't miss an important change when it happens.
You now have a bonafide excuse to re-connect with people you haven't talked to in a while. Congratulate them. Open the door to new conversations.
This is a trigger event that can speed up your sales cycle significantly -- or prevent the loss of a good customer.