Anyone who has ever taken a nightmare sales job can, in retrospect, detect some warning signs. But they didn't pay attention to them. Or, they hoped they were wrong. Or, they were scared to not have a paycheck. Desperation and seduction can easily override good sense.
I was in my nightmare sales job for less than two weeks. (FYI, it's not on my LinkedIn profile.) This job was with a startup with tons of upside potential. The CEO had assembled a good group of people; we were even getting stock options. I saw visions of a big house, luxurious vacations and more.
During my first week, I started noticing problems that would keep me from succeeding at my job.
The second week, my subconscious started whacking me on the head, trying to get me to wake up. Literally. One night I woke up after dreaming a bat was hitting me on the head. The next, I dreamed someone threw a brick at my head. On the third night, I couldn't get back to sleep after an entire brick wall collapsed on me.
I quit the next morning—and I've never been so relieved.
Caution: Bad Sales Job Ahead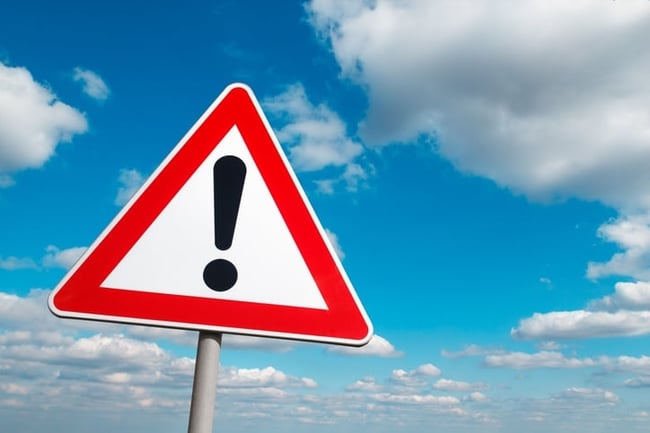 With my nightmare sales job, I was seduced by the opportunity. The upside potential had me drooling. I saw the warning signs and ignored them.
Don't make my mistake. Even though I was happy to be free of that job, quitting abruptly left me in the lurch. I had to scramble to line up a new opportunity fast (which is never a great place to be in.)
Since then, I've noticed that some companies consistently turn out top-performing sales reps. Others don't. Short-term thinking, outdated software, lack of onboarding, and unrealistic expectations can doom even the most dedicated salesperson.
The good news is that most nightmare sales opportunities can be identified before you take the job.
For example, as soon as you start looking at a job opportunity, take a look at that company's website. Why? Let me be blunt. If a company's website sucks, it's hard to sell.
Potential buyers who stumble on it will leave quickly. Interested prospects won't be impressed. You'll have to work twice as hard to convince your prospects that you're the real deal.
Here are three red flags that a company's website will scare prospects away:
1. The site looks dated, loads slowly or is confusing.
People judge companies by their website in seconds. If a company's website leaves a bad first impression (or even takes too long to load), that's a real problem.
2. The entire focus is on their products/ services, not on their prospect's business issues and concerns.
Times have changed. If a website is all "me, me, me" instead of focusing on how the company helps clients speed up productivity, shorten time to market, reduce costs, it's a real issue.
3. There's no educational content.
Blogs, ebooks, webinars, white papers and case studies help attract new prospects and usually indicate that the company has a marketing automation system and invest in inbound marketing. If the website is only sales copy, your job will be much harder.
Look at their social media presence too. If it's non-existent, it may indicate they're behind the times. (Note: this can vary by market segment.)
Don't Be Fooled By a Great Job Posting
A bad website is one indicator that a company might make it nearly impossible for reps to succeed. But it's not the only early warning sign. Outdated sales tools, unrealistic quotas, bad managers—all can be identified before you take a job.
If you're searching right now for your next position (or think you might be searching soon), download my Avoiding the NIghtmare Sales Job ebook.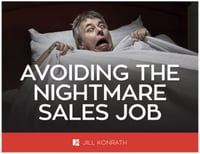 You'll learn 11 ways to sniff out a bad sales job before you commit and get 37 questions that will help you evaluate the opportunity while they're evaluating you. Download this ebook to get tons of rock-solid advice to help you find a sales job you'll love.
Get the ebook now:
http://www.jillkonrath.com/nightmare-sales-job-ebook
---