How to Avoid the Nightmare Sales Job
---
Thinking about Switching Jobs?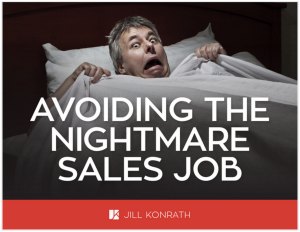 According to Glassdoor, 68% of salespeople are open to changing jobs this year. If you're one of them, the last thing you want is end up in the sales job from hell.
In this ebook, you'll discover how to:
Sniff out a bad job before you commit
Evaluate the opportunity while they're evaluating you
Make sure your next job is a good fit
Download this ebook to get tons of rock-solid advice to help you find a sales job you'll love.