In Part 3 of the CEB Sales Roundtable, we discuss how to make more use of the time you gain after you've eliminated distractions and simplified the sales process.
You can listen to the audio or read the transcript below.

Listen to Part 3
podcast-CEB-expert-roundtable-part-3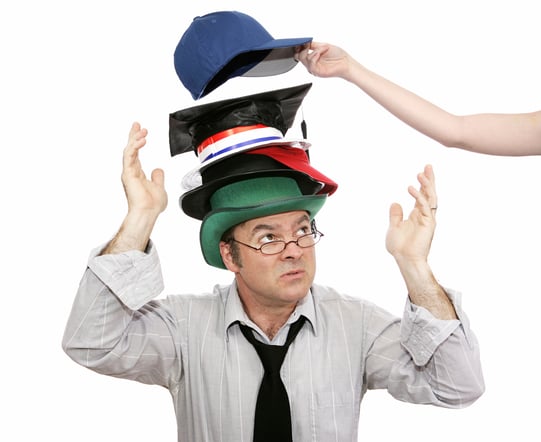 ---
Read the Transcript:
Brent Adamson:
Hey, everybody, welcome back to our podcast from Las Vegas. I'm excited to spend some time today here at the CEB Sales and Marketing Summit, joined by Nick Toman, who is the head of The Sales Leadership Council here at the CEB, author Jill Konrath, author of the forthcoming More Sales, Less Time, and Lori Richardson, CEO of Score More Sales.
We've been talking a lot about sales complexity, both internal complexity and customer complexity. Those conversations so far have resulted in some ideas, tactical tips, tricks, suggestions both at the organizational level and the individual level of what we might do to free up capacity, to free up time, to reduce distraction and increase focus.
Today, let's spend a little bit of time talking about what we do when we've managed to simplify things. If we've managed to create some focus, what are we going to focus on? What are we going to do with that added capacity, that added time? What are we going think about? What are we going to ask about? What are we going to do or do differently?
Lori, I know you have some thoughts on this, so we'll start with you. If I can win some time back or win some mental pennies back (as I like to say) what would I spend them on.
Lori Richardson:
If I'm a rep, I need to know what my most important things are to do, my big rocks, so to speak. When I come in in the morning, this isn't something I should have to start figuring out. I should know right when I come in. Maybe my system does it. Maybe my software does it. People have different ways of this happening, but I need to be able to prioritize and dive right in.
I think right there, assuming we're not opening our email, we're going to look at what our highest and most important thing is to do and get those things done early. Otherwise, it will just escape you from there.
Brent Adamson:
Which is pretty much how I got to where I am in my life. I put everything off and now I've got to do it all in a day. Nick, I know you've got some thoughts as well. If you free up that mental capacity, that practical capacity, what should we do with it?
Nick Toman:
In the research we've done, we continue to see that with the best sellers, it's really not a product of freeing time so much as what they do with that time. Lori, I would completely agree with what you just said.
The idea is to be really planful with pre-sales time -- thinking about what am I going to address with this customer, given where they are in their purchase process.
It becomes really important in early stage selling to understand what is the thing the customer should be focused on that they're currently not, what's the thing that they've underappreciated, what's the problem they haven't quite gotten their heads around and really pushing oneself to have confidence around what is that initial angle I'm going to go in, based and routed on the customer's business, not my features and benefits, that I'm going to use to help them think differently.
As you get into a later stage, deal pursuits, I would really urge sales managers out there to pull up their teams and have focused war rooms or collaborative sessions to look at deals that have been stuck mid-funnel and say, "Look, we have got them excited. They have bought in at some level but something has happened. Let's really try to think through precisely what's happened and let's get creative around how to get this deal moving again."
I find good managers, time and time again, run these sessions so well and it just provides the team not only opportunity to think creatively and constructively but to seek out peers' advice and to seek their manager's advice. It's just a different cultural norm for that team that thinking about the pursuit is okay, spending time on it's okay and seeking some peer counsel, I think, just becomes so incredibly important to get this to a cultural way of thinking on a sales team, creatively, critically innovative ways about how to drive the business forward. Those are the two pieces I have.
Brent Adamson:
It's the same ideas. We've looked at this through what we call sales innovation, which is a very similar concept, isn't it?
Nick Toman:
We found sales managers who focus not just on coaching, which we often define coaching as ... Coaching as a good art form is I'm leading you to water, so to speak, as a salesperson through good questioning, through self discovery.
Oftentimes, as a manager, I know where that conversation is headed whereas deal innovation really takes the form of I have not clue where this is headed. I've never seen it before as a manager. You've never seen it before as a seller.
I can't coach you on it so let's just figure out what the heck is going on here and come up with our best hypothesis and best guess as to how to unstick this particular deal. That is something you can teach frameworks around. It's a very exportable, teachable skill, using basic creative thinking frameworks like scamper frameworks or blue team, red team types of exercises just to jar loose some of those thoughts. Those managers who spend time and energy on let's just get down and dirty and figure this thing out really do have higher performing teams. That's where I would spend some energy for sure.
Brent Adamson:
It's really funny because you guys are all being so polite because I know you all want to jump into this conversation. Jill, you've got the mic. Let me turn it over to you.
Jill Konrath:
I totally agree with Nick. I spent a lot of time involved in creative problem solving and coaching teams in that for many years and also studying how people think in different levels of thinking. What he's been talking about are most sales people come in. They're learning at the comprehension level and application level of thinking. The next level up becomes the level of analysis. What do we know about what's going on? What do we actually know? Analysis is crucial. What do we know about their situation, their company, the market, the whole condition?
Above analysis comes synthesis, which is exactly what he was describing in terms of what are some ways that we can come up with and look at things differently. What other options can we try that we haven't thought of before? Who else can bring ideas and insights to the table that can help us be better?
There is a final level of thinking that I think we always have to address and it's oftentimes forgotten in this. This is the level of evaluation, which is if we do this, how will it be perceived, and the ability to take and put yourself in another person's shoes. The reason I bring this up is because I've seen people put together a deck. They've planned a meeting out in their whole mind and they, literally as a team, think that they have the best presentation, the best meeting plan than they've ever had and it's absolutely perfect, but it's not from their eyes that this is seen. It's seen through the eyes of their customer and their buyer.
There's a final step that comes from a level of how should we be thinking in terms of if we sat in our buyer's shoes, how would we react to this meeting? How would we react to this conversation? How would we react and do it? You find when you do that, sometimes your verbiage is wrong. Sometimes your sequence is wrong. Sometimes you've done nothing to engage them but you've been talking because you have to share this because you think it's so blasted important. There's that highest level of thinking that really puts you in the buyer's shoes to evaluate your own work to determine if it will be effective, and then make changes so you don't screw up.
Lori Richardson:
Yeah, and a good collaborative team should detect that. They should get to that point for sure.
Jill Konrath:
Yeah, they should and the criminal thing is that people rush to do it. We're such an action-oriented profession that-
Lori Richardson:
Reactive, too.
Jill Konrath:
Reactive and action-oriented. We think that if we are doing stuff, if we're doing, then we're making progress. Busy, it's about being busy. It's not. It's about doing the right thing and having thought it through so well that you really know what's going to happen or you can think of what are the roadblocks that you're going to encounter and be prepared.
Brent Adamson:
In fact, there's a name for that, Jill, which is well-documented at least in behavior research, which is solution-biased, which is this natural tendency to jump right ... I see your problem and I jump right to a solution.
Jill Konrath:
It's kind of like going back to marriage counseling with guys when their wives raise a problem, right?
Brent Adamson:
In fact, it goes way back to when ... It's quite literally hard-wired into our DNA. You think of back in the days when they were wandering the grasslands and the pampas and we see that shadow on the rise and we think is that going to eat me or am I going to eat it? We've got to make a decision right now, fight or flight? What do I do?
When you get in these very complex problems, what we're finding is the very best companies have done something very different. They're actually creating mechanisms to operate against that solutions-bias by asking what is the actual problem that we need to solve. What is the actual problem the customer needs to solve? They go through diagnostic exercises, root cause analyses, the prompting tools, Nick, that you had mentioned around sales innovation.
Ask yourself, are we really clear about what we're trying to accomplish in the first place before you start throwing out answers and going after it in that we've got to get this done. It's a mad rush to answers, isn't it? It's a really powerful way to think about it. We've got a number of frameworks we've been sharing around that same idea.
Lori Richardson:
You guys have a lot of frameworks.
Brent Adamson:
We're framework rich.
Lori Richardson:
You are so smart.
Brent Adamson:
All we need now is a framework for choosing the right framework, which is ironic but it's true. We actually are now in the business of creating meta frameworks.
Lori Richardson:
Whoa.
Brent Adamson:
I know. That's pretty deep, isn't it? Or high level. I'm not sure which. We're coming towards the end of our time and whether it's within this context of complexity and freeing up focus or focus on what I do with my focus, I just want to ask a broader question. I'll tee it up and then talk about it. I'll give you guys a second to think about it.
What is one tip, one piece of advice, one suggestion that you might share with sales professionals out there within this broader context of our conversation today. I'm sure you've got many but Jill, you're looking at me like you've got on right on top of mind so I'm going to go to you first.
Jill Konrath:
Slow down. Slow down.
Brent Adamson:
Are you talking to me right now or is that your tip?
JillKonrath:
Yes, I would say yes, exactly. The answer is slow down. Honestly, we're rushing too much. Just slow it down so we can do what's right, so we can think. Just slow it down.
Brent Adamson:
Yeah, that's a great one. Lori, let's come to you.
Lori Richardson:
Prioritize. Don't rely on your manager to do your job for you. You need to know what it is that's going to help you reach your goals. I've spoken before about how I've had 23 managers in my sales career. Some were awesome and some were not awesome. I was going to say awful but ... I couldn't rely on the systems in the company to help me get things done. If I can do that as a rep and prioritize, then of course, I want to see the leaders helping the reps more, too.
Brent Adamson:
Great advice. Nick?
Nick Toman:
I think the one piece of advice I would give to particularly sales teams directly, is really try to simplify their customer's job in this purchase process as much as they can. Not only is it just for the sake of being a good steward to the customer, but it goes back to, Brent, your point earlier about having some degree of empathy for what the customer is going through.
By doing so, I think you increase the opportunity and the chance that the customer is going to pick up on the unique attributes that you have to bring to the table. If I can help them really slow down and process their problem, understand what they can do about that problem, understand the best course of action around that problem, the chances of them really hearing and understanding what makes my solution different comes to life.
I think at the same time, you get rid of all those oddball configurations, trying to stretch my capabilities to try to match some far-flung customer request, which adds the complexity back in as a salesperson and doesn't let me move on to the next opportunity. I continue to have to work through that same one time and time again.
I loved Jill's advice from the point of view of slowing down and Lori's advice around prioritizing and I would say just slow it all down, prioritize what you can do to help the customer best approach their situation and in turn, that will help you slow yourself down, slow down all the noise, all the complexity and it makes the system work better.
Brent Adamson:
Slow down, prioritize, simplify. That's the-
JillKonrath:
Do you think we're going to let you off without giving your final two cents, too?
Brent Adamson:
Oh, no. Here's my piece of advice. I've got two. I've got three.
Jill Konrath:
Just one.
Brent Adamson:
No, well-
Jill Konrath:
Then you can summarize.
Brent Adamson:
Here's my three pieces of advice. Number one, I would seriously recommend that all of you take the time to look up the work that Lori and her team are doing at Score More Sales and make sure you're following her on LinkedIn and on Twitter. There's some great work there.
My second piece of advice is, as soon as you can, pick up More Sales, Less Time from Jill.
Brent Adamson:
Get it on Amazon. It's available now. I've had the pleasure of getting an early look at the work. It is fantastic and it's going to be so helpful to everyone out there.
My third piece of advice is let us know how we can help here at CEB Sales. Nick and the team are continuing to push heavily on the research that we do and also on our marketing practice, the Marketing Leadership Council. We're excited to help all of you as well.
There are so many questions we all have but there are answers and there is help and there is hope. If we can slow down and we can prioritize and we can simplify, hopefully, that will help us all to think better about how to manage the complexity we're all in today.
That's the word here from Las Vegas and the CEB Sales and Marketing Summit. Jill, Lori, Nick, thank you so much for joining us here. Can't wait to see all of you down the road. Safe travels out there, everyone, and cheers.