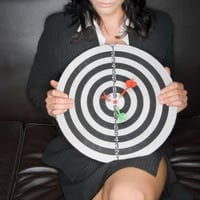 It's that time of year. You've just been handed a new, higher quota for 2016. Or, you've set your own goal to achieve a personal milestone.
If you struggled to achieve your objectives in the past, here are three videos that highlight the latest research on this topic.
I think you'll find these strategies helpful.
---
3 Articles to Help You Achieve Your Sales Goals:
1. No One Talks About This Key Factor in Sales Goal Achievement
There's one step in goal setting that matters way more than any other when it comes to achieving your sales targets. In fact, skipping it can doom your entire endeavor. Learn the most important thing you need to do when setting your sales goals.
Check It Out: http://www.jillkonrath.com/sales-blog/sales-goal-achievement
2. How to Avoid Falling Short of Your Sales Goal This Year
Why do we often fall short of achieving our goals and what can we do change this? In this article I share a research-backed process that will help you be more successful at ensuring you can reach your sales targets.
Check It Out: http://www.jillkonrath.com/sales-blog/avoid-falling-short-of-sales-goal
3. Performance-Based Goals vs. Getting Better Goals
According to psychologist Don VandeWalle, salespeople who set the right type of goals work harder, plan better and achieve a lot more. So what type of goal will best help you succeed in 2016?
Check It Out: http://www.jillkonrath.com/sales-blog/performance-based-goals-vs-getting-better-goals