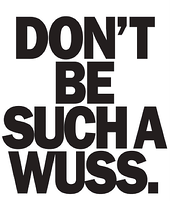 I'm sure your answer is a resounding "no." But in reality, it's not what you think that counts. Only your prospect's perceptions matter—and they can be very different from what you'd imagine.
Why? Because they're extremely busy. Every time they talk with you, read your emails or meet with you, they're asking, questions like:
"Is this person a credible resource?
"Does he/she bring a depth of expertise?
"Is this worth my time to continue the conversation?"
So let's take a look at one scenario to see how your best intentions might be totally misinterpreted.
You've finally lined up a meeting with an important prospect. As you're ushered into their office, you extend your hand and say, "Thanks so much for meeting with me today, Terry. I really appreciate your time."
You think you're being courteous. After all, this person is busy and it's taken a long time to get on their calendar.
They think you're a wuss. Important people never position themselves as a supplicant, grateful for the opportunity to meet with Mr/Ms. Big. Instead of sounding like the pro you are, you sound like a hopeful wannabe.
Nice people are the worst offenders. They don't realize that their graciousness and gratitude come across as neediness. Or hopefulness. And ultimately, as being wussy.
What's a better way to kick off the meeting? Extend your hand and say something like this: "Good to meet with you, Terry. As I said when we set this up, I've got some ideas that can help you out with [fill in the business reason].
Notice how that positions you as a peer who's worth meeting? It's a totally different framework to begin your conversation. Also, please note that it's not about your product or service. That makes you seem like a self-serving salesperson. Again, that's bad.
You have to think to be good at sales—and not just from your own perspective. Review everything through your prospect's eyes and ask: Do I sound like a valuable resource and a business peer? Or, do I sound like a wuss?
---
Your Turn: What other ways do salespeople sound like a wuss? And, how can they change things?