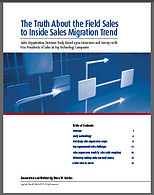 How are VPs of Sales adjusting to today's changing business environment?
Steve W. Martin, author of the Heavy Hitter sales book series and Harvard Business Review contributer, wanted to know. So he conducted in-depth interviews with senior execs from over 100 top technology and business services companies.
What did he learn? When you download his FREE Sales Organization Report, you'll discover:
The strategies these execs are using to overcome their biggest sales challenges.
How sales cycle complexity impacts the sales organization structure.
The truth about the migration from field sales to inside sales.
You'll also find out about key sales performance metrics by company category (software, hardware, telecom, etc.) including:
% of sales organization achieving quota
Average annual quota and on-target earnings
Sales cycle length and average deal size
Field sales revenue trends
Inside sales centralization metrics
% of organizations migrating to field or inside sales models
It's good stuff. Click here to get your copy of the Sales Organization Report now..