Today's post from the Chamber of Commerce features business-growth advice for small companies.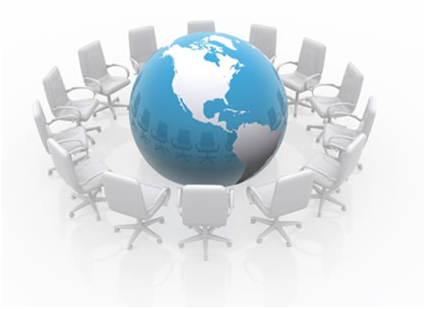 As more people collaborate remotely across the globe, online meetings are rising in popularity. They're a whole lot more efficient than sending emails back and forth. Plus, they provide more interaction than phone calls alone.
Whether you manage a small sales network or have an influx of sales leads, you can make a greater impact through use of interactive online meeting platforms.
Katelyn deDiego, Senior Marketing Content Specialist at Citrix -- the company that powers GoToMeeting.com, says that online meetings are a must in the global workplace.
"If you ask employees to write down the locations of people they interact with on a regular basis, chances are the cities will span an entire country and in some cases, multiple countries," she said.
"Seeing the same thing at the same time. Seeing each other from different locations. These things speed up business and make collaboration easier and more enjoyable.
Don't be intimidated by online meeting technology. Instead embrace it as a way to do business efficiently. With the right planning, they're an invaluable tool in smart communication and selling."
deDiego offers these tips to prepare for online meetings:
Think about setting
Decide where you want to participate in the meeting and whether you plan to be on video while it takes place. If you will be seen, pick a place that looks professional like a conference room or an uncluttered home office space.
Even if you don't plan to be on a webcam, choose a quiet spot where you can be easily heard and where you won't be distracted by other office/home noises and happenings.
Troubleshoot technology
Make sure your webcam is plugged in and working properly. Test your audio too. If you're using a platform that requires an extra download, do that well before the meeting is scheduled so others aren't kept waiting for you. If you're the presenter, use a device that allows you to check the chat window frequently to answer questions and receive input.
Be punctual
Online meetings aren't excuses to act casually. They're still professional appointments and should be treated that way. Make sure all of your team members are well prepared and ready to go on time. Respect the time and responsibilities of the other attendees by starting and ending the meeting within the agreed-upon time constraints.
Have online meetings improved your sales?
Image via Flickr on Creative Commons
Katie Parsons writes for ChamberofCommerce.com where she specializes in business news affecting major markets. ChamberofCommerce.com helps small companies with online growth. Plus, it facilitates connectivity between local firms and over 7,000 Chambers worldwide. She is also the administrator for a community blog for moms.