Today's post from the Chamber of Commerce features business-growth advice for small companies.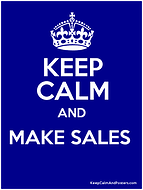 If the adage "time is money" is true, then productivity is a valuable asset in sales. From initial sales contact to follow up calls, making even one sale is an investment in time and sales staff resources. So how can you boost your own efficiency, and encourage your employees to do the same?
Take a look at these five tips for heightened productivity in sales:
Prepare. It may seem counterintuitive to productivity to spend more time upfront getting ready for a sales call or meeting, but it will make a difference in the long run. A salesperson with his or her "act together" is one that will make more sales.
Take a deep breath. Productivity expert Laura Stack talks about the importance of calmness in making sales. On The Productivity Pro® blog, Strack says that a "confident, energetic, authentic individual will always attract more attention… than someone who seems nervous or apathetic." Get your nerves in check before any sales presentation and eliminate negative energy.
Believe what you say. Do you think that your product or service is vital to your customers? Avoid feeling like you are asking for a favor during a sales presentation; instead, remind yourself of all the ways your item will benefit the buyer. You are not "bothering" your prospect – you are showing that prospect how business will improve with the aid of the product or service you are selling.
Encourage interaction. It is not enough to simply talk. You must find ways to engage the listener in sales presentations. Think ahead to the questions your prospects may have and then encourage them to ask them. Do not assume that a prospect will arrive at the need for what you offer alone. It's your job to guide them down the path that has you as the answer.
Be confident. The best way to exude confidence is to combine all four of the above steps. With the right preparation, you will be able to answer any queries expertly. Staying calm will keep your body language and vocal inflection strong. Having faith in your product or service will make it easier for your listeners to also believe in it. Allowing for input from your prospects shows that you are not tethered to a sales script and that you really do know the ins and outs of what you are selling.
Productivity in sales is not just a nice phrase to toss around – it is a necessity for true revenue growth.
How do you ensure your own productivity when it comes to sales?
---

Katie Parsons writes for ChamberofCommerce.com where she specializes in business news affecting major markets. ChamberofCommerce.com helps small businesses with online growth. Plus, it facilitates connectivity between local firms and over 7,000 Chambers worldwide.