Today's post from the Chamber of Commerce features business-growth advice for small companies.
Everyone is a salesperson in his or her own way. That's the belief of Nancy Bleeke, owner of Sales Pro Insider, Inc. and consultant who works with companies to help maintain their most valuable asset: their employees.
F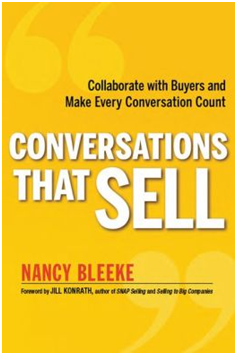 or 15 years, Bleeke has worked one-on-one in training and human resources projects from the hiring process to sharpening the internal skills of "non-traditional" sales people like project managers and engineers.
"Non-traditional sales people are often the ongoing sales force of companies," Bleeke said. "They are often the ones in the important meetings with clients and they are the ones who need to know how to have a productive conversation."
Bleeke elaborates on this idea in her recently released book Conversations That Sell. Here is a summary of her three key points:
Make the conversation relevant. In short, she says that sales people should talk "with" and not "at" clients. Bleeke says that before every meeting, the person in the sales position should ask themselves one important question: What is in it for the other party? All of the verbiage and questions of the meeting should be phrased to answer the needs of the client.
End with a commitment. When a meeting or conversation comes to an end, the sales person should always set up a follow up. Not every interaction will result in a hard sale, but it is the responsibility of the sales person to arrange the next step. Bleeke suggests giving the client an assignment, like a site to visit or company materials to read, before a follow up meeting.
Prepare. Of all the components of successful selling, Bleeke says that she sees lack of preparation the most. Her eight-week course focuses on knowing an end goal before going into a meeting and outlining the needs of the client first. She says that people who take this advice see an increase of 5 to 25 percent in sales in the short two-month period. "Preparation means that the sales cycle is shorter, and clients get exactly what they need," she said.
As the tagline of her book states, there is no such thing as "small talk" when it comes to sales. Bleeke encourages a collaborative approach.
"Buyers want more from sellers today," she said. "They demand meaningful results. The focus for sellers should be how to make conversations more collaborative."
Katie Parsons writes for the ChamberofCommerce.com where she specializes in business news affecting major markets. ChamberofCommerce.com helps small companies with online growth. Plus, it facilitates connectivity between local firms and over 7,000 Chambers worldwide.