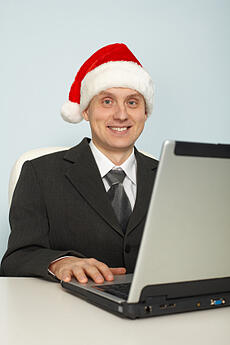 Finally, after months of trying to get in to see one of your hot prospects, the day has arrived. The big meeting is set for early afternoon.
Sitting by yourself at lunch, you're planning what to cover in your one hour together. This may be the only chance you have to really show your capabilities, demonstrate your expertise or razzle dazzle your prospects with the breadth of your product line. Plus, you really need to update them about all the new things your company is doing.
So much to say. So little time!
Intellectually you know it's important to focus on your customer and ask questions about their objectives, issues and concerns. But inside you're in turmoil because you "have" to share all this information.
"Besides," you think, "What if I don't tell them about all our products or everything we can do for them? If I only tell them about one thing, what if it's not what they need right now? And I really need to impress them with all our capabilities."
What should you do?
If you're like most people who sell, the fear of missing out on a potential opportunity is just too overwhelming - especially when you may only get one shot at this company's business.
When you sit down in front of your prospect, even though you have good intentions of being customer-focused, it's virtually impossible to do.
Instead, like Santa Claus, you bring in your entire goody bag of products and services and spread them across your prospect's desk. Brochures, samples, case studies and more brochures. They're all out there for your prospect to pick and choose from.
And, you can't stop talking, "Stop me when you hear something you like! There's bound to be something I/we do that you'll be interested in." Your prospect asks just enough questions to keep you going and verify that this was the right approach to take.
But is this approach effective? That's all that's important. In short, does playing Santa Claus work in selling?
Unfortunately, the answer is a resounding "NO" when it involves dumping your entire goody bag under your prospect's Christmas tree.
By showing them everything you have, they can easily rule you out. Just because they have lots of options does not make them want to change. Plus, you sound like a peddler. That's not the way to start a solid business relationship.
However, I'm not suggesting you play the Grinch either.
Here's how Santa would approach a sales meeting:
Find out what's on the prospects' list. What do they really need or want? What goals or objectives are they trying to achieve? What problems need resolution? The only way you can find out what's on your prospects' list is to ask really provocative, insightful questions - those that get them thinking. Make your own list of questions before your call so you're not tempted to dump your goody bag.
Check his list twice. When you uncover a need or problem, don't jump on it right away. Explore it in depth finding out all the business ramifications and the pay-off for making a change. This means you ask more questions.
Give them what they ask for. Prospects don't want your product or service - only what it can do for them and their business. If you haven't asked questions, you'll never know if you can help them achieve their objectives or eliminate their problems.
It's important to remember that your initial meeting is about starting a conversation, not closing a sale. So please, don't dump your entire goody bag all over your prospect's desk. Santa wouldn't approve! It's not how he works.