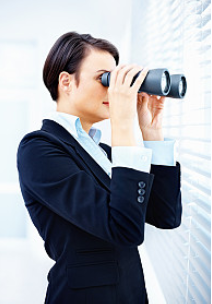 Today's post was written by Kurt Shaver, a speaker at my upcoming Prospecting Strategies webinar on Sept. 13th.
LinkedIn originally started out as sort of an online resume, but as membership grew, savvy B2B sales hunters realized it was a powerful prospecting tool too. There are many reasons why. Here are three:
1. LinkedIn has Quantity: LinkedIn has 175+ Million professional members. Its Advanced People Search allows users to easily sort through them to find people that match an ideal customer profile.
2. LinkedIn has Quality: LinkedIn's user-supplied information is often better than Google for researching a prospect because their profile contains information that the person entered about themselves.
3. LinkedIn is Social: The social networking aspect of LinkedIn offers the possibility of discovering a mutual connection to provide an introduction, thereby increasing the chances of making that all-important initial contact.
Still many salespeople aren't familiar with all of LinkedIn's prospecting capabilities.
The Advanced People Search feature offers dozens of filtering options including Title, Location, Industry, Function, Seniority Level, Groups, and one my favorite filters – Company Size.
Toss in the ability to use Boolean search terms (AND, OR, NOT) and you've got one powerful people-searching tool.
Another favorite is Saved Search, which lets you set up auto-alerts so LinkedIn automatically emails you leads when someone fits your pre-selected criteria.
From a corporatize perspective, many sales executives are not aware of Sales Navigator. It is a Premium LinkedIn subscription with special features for sales teams. One of the features is Team Link.
A study1 by LinkedIn shows that only 53% of sales professionals have leveraged their coworkers to facilitate introductions to new opportunities.
Team Link takes social connectivity beyond the individual user's Connections to show who else on their team is connected with their target prospect.This increases the chances of receiving a warm introduction through the co-worker.
Sales Navigator is new but early results look promising.In a recent survey2 by the sales research firm CSO Insights, 81% of Sales Navigator users said it improved their ability to identify key decision makers. 70% said it would increase their ability to achieve sales goals.
If you'd like to learn more, register now for Prospecting Strategies webinar: http://bit.ly/Prospecting-Webinar. I'll show you how it all works!

Kurt Shaver, CEO of The Sales Foundry, helps B2B companies implement Social Selling strategies. To receive Social Selling tips and free resources including a 2-minute self-assessment of your LinkedIn status, visit www.thesalesfoundry.com or follow Kurt on Twitter.
LinkedIn Charter Customer Survey, November 2011
CSO Insights, "Results of LinkedIn for Salesforce.com Research," March 2012 http://www.csoinsights.com/