Ever been in a slot canyon? It can be frightening -- especially when they're really narrow like the aptly called Spooky Canyon in Utah.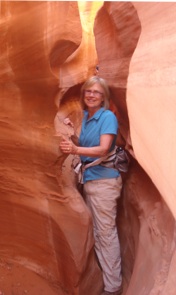 Last year, I hiked in about 1/4 of a mile when my claustrophobia hit. The path was so skinny that we had to walk sideways to get through. There were other hikers just a few feet in front of me, but I couldn't even see them with all the twists and turns.
Fifty feet above me, there was a slight opening where you could see a slight patch of blue sky -- most of the time. I felt like the walls were closing in on me and I couldn't breathe.
I said to my husband, "I can't take this anymore." He was feeling the same way, so we reversed course. But, because there wasn't enough space to turn around, we had to walk backwards for awhile.
When we got out, I was quite confident that I didn't need to ever do that again.
Until this year. I needed to tackle my fears. Thousands of people go through Spooky each year. They don't die or get stuck and have to chew off their arm to survive.
So this time through, I decided to set myself up for success.
I read other people's accounts of going through Spooky with their families and how much they loved it. Lots of people mentioned that although it got unbearably narrow at certain points, it did widen out shortly after that. (I prepped myself mentally.)
I also knew that I needed to go into the canyon with people in back of me and in front of me. Those ahead would show me that it could be done. Those behind would keep me from turning back -- literally. ( I positioned myself for success.)
My strategies worked. And, there was an surprise benefit of doing it this way too -- especially in those really difficult spots where you had to climb up on shelves that you couldn't reach yourself. Or, you had to slide down a long chute and under some huge boulders.
The group of young people in front of us kept offering help. At first we were too proud to accept it, thinking "We can do it ourselves." But we literally couldn't, so we accepted their helping hands. Tough challenges are so much easier when you have the collaboration and support of the people around you.
And, believe it or not, my presence helped a woman in the group behind us. She kept thinking, "If she can do it, I can handle it too."
To be successful, it's critical to tackle your fears. If you don't, they become major obstacles that limit you. But when you do it in one area, the mental strength you develop spills over into other places in your life -- and, it's all good.
Your Turn: What strategies do you use to overcome your fears? Share your thoughts in the comments section below.