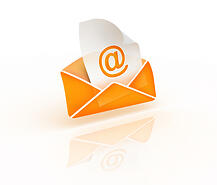 Last Friday, I sent out an email telling you that I was shutting down my Selling to Big Companies website. Within minutes, my inbox was flooded with hundreds of messages. To say I was surprised by the reaction, is an understatement.

Here are three things I discovered from that deluge -- and what they mean to you.

1. Email subject lines really matter -- much more than you or I think.
My last email generated at least 15 times the number of responses I typically get. That's huge. But I didn't just hope it would happen. I actually worked hard to craft a subject line that would pique your curiosity. When I thought of "I'm calling it quits -- and here's why," I knew it was a winner.

Action Step: If you want your emails to get opened, don't make your subject line an afterthought. Think about it from your prospects' perspective. What would make them overcome their auto-delete reflex and read your message. Brainstorm 5-10 different subject lines, to ensure you find a better option.
2. People seriously scan <don't read> their emails.
The majority of people who wrote to thanked me for my helping them in their career and wished me well on my new endeavors.

But I'm not quitting! I'm just shutting down Selling to Big Companies. Everything has already been ported to JillKonrath.com. I thought I was pretty clear. Clearly I wasn't. I think my message was hidden in too much verbiage. It can easily happen.

Action Step: Be ruthlessly concise in your emails. Get to the point. Use short sentences whenever possible. Of course, that doesn't mean you have to be rude. It just means you need to cut out the unnecessary.
3. Email systems don't like unrecognizable senders.
The last email I sent out came via HubSpot, my new website provider. While the message still came from me, many of your systems flagged it as potential "you know what." In short, the email was never seen by the intended reader.

Action Step: Please add jill@jillkonrath.com to your address book to ensure you keep getting these newsletters.

Action Step: You could easily encounter the same issues. To minimize the chances of this happening, call your prospects first to leave a voicemail message alerting them to look out for your email.

In short, you want your emails to get opened, read and responded to. When you pay attention to the factors that impact this, you're more successful.


QUESTION: What suggestions do you have for getting better results from your emails? Enter them in the comments section below.