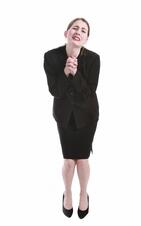 If you're finding it harder and harder to set up meetings with with potential buyers, you're not alone. Sales prospecting isn't easy these days.
But the real problem is that most sellers don't understand how their prospects are evaluating their attempts to get in. This lack of understanding is the root cause of most prospecting failure.
That's why I wrote The Buyer's Lament -- a sales poem that highlights what your prospects really want from you. Enjoy!
_____________________
The Buyer's Lament
Don't waste my time, please go away.
I will not talk with you today.
You call me up, you want to sell.
But all you do is tell, tell, tell.

I do not want to hear your spiel.
I will not play let's make a deal.
So listen up, take my advice.
Discover how you can entice.

If you aspire to earn my trust,
Research is an absolute must.
Know my goals, the issues I face.
Use this to build your business case.

What have you done for firms like mine?
How have you helped their bottom line?
Can you cut my costs or help me grow?
Now that's the info I want to know.

If you can help me solve my plight,
I'm wide open to fresh insight.
I'm looking now for new perspectives
To help me reach my objectives.

Want me to remember your name?
Launch an account entry campaign.
Ten plus contacts is what it may take,
When there's a big opportunity at stake.

To get past my no-entry zone,
Just think of this next time you phone.
Once you get your foot in the door,
I guarantee you'll sell lots more!
__________________________________

Jill Konrath is the author of SNAP Selling (#1 Amazon sales book) and Selling to Big Companies, a Fortune "must read" selection. She's a frequent speaker at sales conferences and kick-off meetings. For more fresh sales strategies and free sales tools that work actually with today's crazy-busy prospects, visit www.jillkonrath.com.

© Jill Konrath 2011 All Rights Reserved. For permission to reproduce this article, email info@jillkonrath.com.
____________________________________