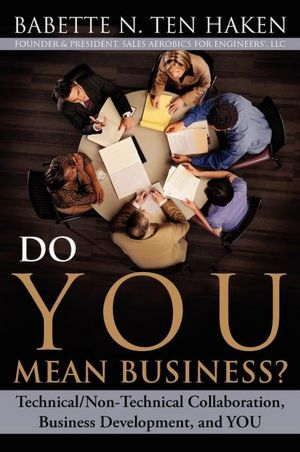 Do you sell to technical customers or engineers? Are you a technical person who has to sell or get funding for your company? If so, I think you'll be interested in my recent interview with Babette Ten Haken, author of Do YOU Mean Business? It's written especially for you!
At the beginning of your book, you talk about "The elephant in the room." What is it – and why is it important?
Babette Ten Haken: The elephant in the room is the "Us versus Them" mentality. It's pervasive. It's in the rooms of academic institutions, companies large and small, our customers' companies, and – quite frankly – inside our professional heads.
This mindset separates people from each other. It puts them into corporate silos, pitting Engineering against Marketing/Sales, Operations vs. R&D, Sales vs. Marketing, you name it. It's responsible for creating the stereotypes that discourage cross-functional communication and hinder innovation.
There's no room for this mindset in today's digital millennium and global economy. It's a vestige of post-industrial thinking-- and those days are gone.
Technical professionals don't make it very easy for salespeople. Personally, I've always have problems with them. What's going on?
Babette Ten Haken: Jill, you just have to understand them better! Technical professionals engage in rigorous academic and professional training to earn their degrees and certifications. Word choices are extremely important to technical professionals. They interpret your words literally. They're data points that can be designed against. They also think they're the smartest folks in the room. You know what? They usually are!
Now think about the typical sales call a normal salesperson has with an engineer – and how data-driven it is. If you use corporate messaging, you're in trouble. Instead, you need to be speaking from knowledge you've gained from your own research on industry and technical trends, your prospective company's position in the competitive marketplace.
And you can't sling the lingo without really understanding what it means. If so, engineers see right through that in a heartbeat and start questioning your knowledge. Now to be fair, they do this with each other as well. They second-guess and constantly professionally validate the technical positions they support. Why? It makes their technical solutions more robust.
However, if you – as a salesperson – really don't know what you are talking about, then you're toast in this type of setting. And you're probably missing out on people who could become your greatest advocates and best customers.
What are the biggest challenges that normal salespeople have in selling to them?
Babette Ten Haken: Overcoming their fear of technical professionals!
Jill: I totally understand that feeling.
Babette Ten Haken: Then you're normal. The average salesperson who's prospecting engineering and manufacturing companies has a huge hurdle to overcome—their fear of being called out on what they don't know about their product, service, or platform.
As a result, they call on customers who don't stretch them intellectually or professionally. Perhaps they stick to repeat customers with standard programs or product orders. They sell products, services, platforms that are easy to sell to and use scripted sales spiels that have a one-size-fits-all sound to them. Once they get the order (if they do), they make a fast retreat and breathe a sigh of relief that they got out of that engineer's office unscathed.
As a result, their customers are status quo – and so are their sales methods. Because they "play it safe," they leave lots of sales dollars on the table.
So what do you suggest they do to overcome this fear and increase their effectiveness?
Babette Ten Haken: If you're selling to technical professionals, you need to do your homework. And, you shouldn't represent yourself as a technical peer – unless you really are one. Today's business development environment favors sales professionals who research trending in industry, technology, and companies. You also need to know about the trigger events that create sales opportunities for you too.
JILL: Anything else you'd recommend?
Babette Ten Haken: I'd also suggest you talk to your internal technical colleagues. Become comfortable with their way of thinking. This will help both of you with your business development. Your subsequent conversations with your technical prospects will be more productive and profitable. Now you're bringing information to the table that they may not have had the time to gather for themselves. Instead of spieling at them, you can talk about what you've read about their company and their technology – and ask them solid questions.
When you engage customers – any customer type, really – in this manner, you start a dialogue. You establish yourself as a resource and potential collaborator from the world of business. You engage your technical colleagues in a conversation that they didn't realize they ever wanted to have with you.
Now, let's switch focus and take a look at what happens when engineers or techies have to sell. What are the biggest issues you see them dealing with?
Babette Ten Haken: The worst 4-letter word in an engineer's or technical person's vocabulary is S-E-L-L. They feel it's beneath their highly educated dignity. This type of elitism, their own elephant in the room, is a result of their academic training and spending virtually no time with anyone other than their technical peers.
Their soft skills aren't very powerful either. They haven't been taught how to put themselves in the shoes of everyone seated around the business table. They stick to technical issues and focus on features and benefits rather than high level trending and return on investment issues.
JILL: I know exactly what you mean.
Babette Ten Haken: It gets worse! When these techies have to "sell," they completely change their behavior and end up sounding like a smarmy salesperson, because that's all they know— and they're appalled at themselves.
To avoid this scenario, their idea of selling is to call another engineer – rather than a decision maker - at a prospective company and asking whether there are any RFPs (requests for proposals) to bid on. I've seen entire companies fall to their knees because their engineer-salespeople have turned their organizations into an RFP mill. This puts them at a huge disadvantage in today's marketplace.
I know you're doing a lot of coaching/mentoring with start-up tech companies. What are the three most important things you work with them on?
Babette Ten Haken: The first question I ask entrepreneurs is "What is your exit strategy?" Where do you want to be in 3-5 years: Do you want to sell your company and move to a tropical island or onto your next start-up? Do you want to license your technology and brand yourself as a think tank for innovation? Do you want to stay on with your company and eventually move into a board member/stockholder role?
The second question I ask is: "What is your Business Model"? It's the fulcrum leveraging the dynamics of your entire business. Revisit it at least once a year if you are a mature company and frequently as a start-up. You can create all the business and strategic plans you want. However, if you don't have a viable and sustainable business model at the core, everything you do will be rife with workarounds and dysfunction. Your business model allows you to be nimble in the marketplace and to make those all-important pivots in response to customer discovery.
The third question I ask is: "How scalable is your company"? What if you win all the business you want to develop? It's like giving a party where everyone shows up. Do you have processes, practices, and capacity to accommodate a 5% increase in business, 10% increase, etc., or will you run aground in short order?
Everyone wants to be a tremendous success. It takes time and an incredible amount of proactive planning and risk to achieve your goal. Adopt a disciplined approach to your start-up so you can truly enjoy your success.
JILL: Great insights, Babette. And again, I'd like to remind readers that if they're interested in learning more, they can go to your website and download the first chapter of Do YOU Really Mean Business? It's filled with lots of great sales advice for salespeople who sell to technical buyers and technical people who need to sell.
Babette Ten Haken: Thanks, Jill. I'm on a mission to help these people. I want them to be successful!
JILL: You are making a difference. Thanks again for sharing your expertise with us today.

Babette Ten Haken blogs about sales, manufacturing, engineering, entrepreneurships and start-ups at Sales Aerobics for Engineers® Blog.
Her company, Sales Aerobics for Engineers®, LLC, teaches technically oriented companies to have productive, revenue-producing customer conversations.