Good scammers have figured out what it takes to get an unsuspecting person to click on their links and enter their sordid world of illegal or immoral activity. But people like you and me -- we're smarter than most patsies. We can smell them a mile away!

Hah! That's what I thought too -- until I stumbled across a couple really creative ones.
They found just the right words to capture my attention. My finger was all set to click on their link when a little voice in the back of my head said, "Slow down."
So what was it that caused that reaction? Here's the first message I got. It came in via Twitter. Over a few week period I received a few more, all with similar text.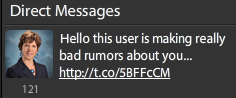 What makes this message so darn effective? First off, it came from someone I knew. But, more importantly ...
It piqued my curiosity. I wanted to know who was saying bad stuff about me -- and what horrible rumors they were spreading.
Curiosity. That's the brilliance of this technique. Those scammers figured out a way to evoke it in me. And, we can take that same strategy and use with our prospects. In fact, we can evoke curiosity in our:
Email subject lines
Voicemail or email messages
Initial conversations
Sales presentations
So have you ever thought about what your prospects are curious about? Mmmm. Now that's a new idea. Maybe you could ask them. Just as a starter, let me throw in topics such as: industry trends, how similar businesses are addressing problems, new ways to look at their challenges. Get the picture?
And once you get that figured out, then you need to experiment with different ways to share this information in a curiosity-inducing manner. For example, I have five different titles for this article before I settled on the one you see above. Why did I chose this one? Because it didn't give away the answer. You had to read the article to find out.
Once you get into the fun of evoking curiosity, it's actually a lot of fun. You can literally see the difference in your prospect's reactions -- and ultimately your sales success.