SNAP Sales Study Guide
---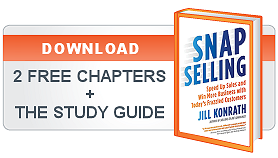 Do you lead a sales team?
If so, start a SNAP Selling study group to help your salespeople learn and apply the fresh strategies required for sales success today.
Are you an individual seller?
If so, gather your colleagues and study this book together. It's just what you need to deal with today's crazy-busy prospects.
In the SNAP Selling Study Guide, you'll find:
Provocative discussion questions for each chapter.
Action steps to turn the strategies into reality.
Notes pages to jot down your thoughts.
Most importantly, you'll learn how to win more sales — faster.
Get 2 free chapters of SNAP Selling and the Study Guide now.
* You'll also get Jill's sales articles, read by over 145,000 sellers worldwide, delivered straight to your inbox.
Get 2 Chapters & Study Guide