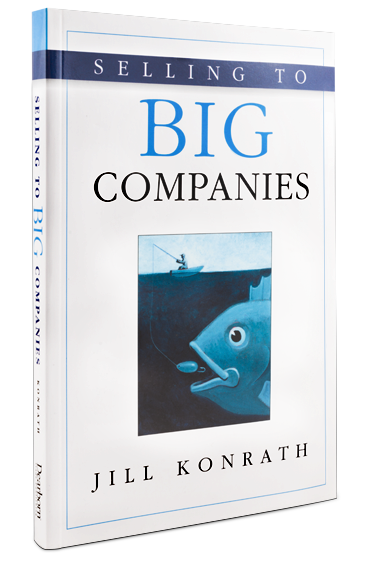 Selling to BIG Companies
Struggling to get your foot in the door to new opportunites?
It's time to stop making endless cold calls or waiting for the phone to ring. In today's crazy marketplace, new sales strategies are needed to penetrate these big accounts.
In Selling to BIG Companies you'll discover how to:
Target the right accounts
Create sales messaging that work
Develop an effective, multi-faceted account-entry campaign.
Have powerful initial sales meetings that build unstoppable momentum.
Selling to BIG Companies is a Top 10 "How to Sell" Book of All Times according to INC.
Fortune: Selling to Big Companies is 1 of 8 "must read" Sales Books
Sales Book Awards: Gold Medal Winner
Sales HQ: 20 Best Sales Books winner
"Selling to big companies takes big ideas, and big thinking. Jill Konrath's book will provide you with both—so that you can go out to the big boss of the big company and come back with the big order. This book will help you—BIG time."

Jeffrey Gitomer
Author of The Little Red Book of Selling
"Jill Konrath offers refreshing insights on how to approach big companies, engage their busy executives, uncover what makes a difference and create substantial value. This book takes the mystery out of selling to these corporate behemoths. Read it to shorten your sales cycle and avoid the many traps that can derail your sales efforts."

Gerhard Gschwandtner
Founder and Publisher, Selling Power
"Keen insights into crafting powerful value proposition and enticing sales messaging that will immediately differentiate you from other sellers."

Lynnette S. Zika
Executive Vice President, National Marketing, RSM McGladrey, Inc.