Email Sales Kit
---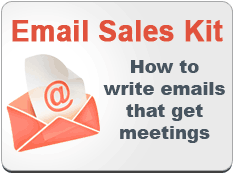 Today's crazy-busy prospects delete nearly all emails from salespeople in a nanosecond. But it doesn't have to be that way. Crafting effective prospecting emails is a skill that you can master.
Using the strategies in the Email Sales Kit, Mark sent just one email to a CEO and 8 minutes later got a positive response. The right messaging changes everything.
We'll send you these free resources:
[eBook] The Ultimate Guide to Email Prospecting
[Audio] How to Write Emails That Don't Get Deleted
[Cheat Sheet] 7 Hot Email Prospecting Tips
You'll immediately discover what you're doing that's creating your own problems. And, you'll find how how to change your messages so you can set up that very important initial meeting.
Make sure you get your Email Sales Kit today.
* You'll also get Jill's sales articles, read by over 145,000 sellers worldwide, delivered straight to your inbox.