Nailing It
---
9 Strategies to Ace the Online Sales Meeting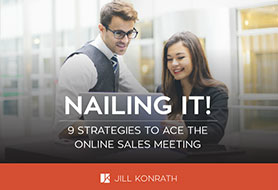 Connecting with today's crazy-busy prospects is tough and online meetings are rapidly taking the place of in-person meetings.
Nailing It! can help you get a competitive edge by helping you ace the online sale meeting.
Download the ebook to learn nine strategies that will help you:
Create deeper engagement with prospects
Uncover new opportunities
Close deals faster
Fill out the form to get the eBook today.
* You'll also get Jill's sales articles, read by over 145,000 sellers worldwide, delivered straight to your inbox.