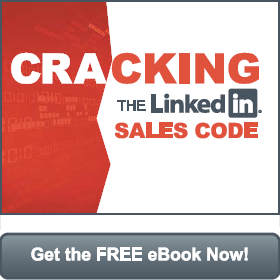 Recently I surveyed 3000+ salespeople. 4.9% of them were doing extraordinarily well on LinkedIn, bringing in lots of business and having a great year. And, what they're doing with it is fundamentally different from what most sellers were doing.
To learn more about the 2013 Sales & LinkedIn Survey, get Cracking the LinkedIn Sales Code now. You'll get the inside scoop on:
LinkedIn capabilities that top sellers use frequently.
Social selling strategies that lead to more sales.
Action steps to better leverage LinkedIn for prospecting.
Download the eBook now --> http://bit.ly/LinkedIn-sales-code
Discover what social selling is all about!