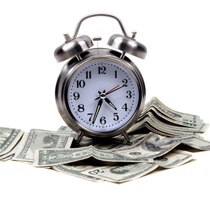 If you're crazy-busy, Dan Markovitz, author of a Factory of One, has some fresh ideas to help you free up more time for selling. And, he's not spouting the same old stuff you've heard from every productivity guru. In fact, he's diametrically opposed to what many of them recommend.
That's why I thought you'd be interested in learning about his "lean" strategies to help you improve your sales time management. Here's my recent interview with him. ____________________________________________
I thought To Do Lists were the key to being organized, yet you're against them. Why? And, what do you recommend instead?
DAN: To Do lists are a colossally ineffective way of managing your work. The sheer number of tasks, and the complexity and priority of the items ensures that you'll end up overwhelmed and working on the wrong things.
The alternative is what I call "living in your calendar." That means estimating how much time each task will consume and transferring them to your calendar.
In essence, you're making a production plan for your work. Framing your tasks in your calendar forces you to prioritize, enabling you to focus on the 20% of the work that's most important to your success and eliminate the rest.
You're not big on multi-tasking either. Why not?
DAN: The science is in and it's incontrovertible: multi-tasking doesn't work. Don't believe me? Think about the last time you were talking to a prospect on the phone when their voice got a little dreamy, and they were slow to respond…and you knew they were reading email while talking to you.
Using your time as effectively as possible means serial-tasking: doing one thing at a time. That's the only way that you can earn the attention of your crazy busy customers, because they don't have time to repeat what they've said to you, and you can't afford to miss any critical bit of information.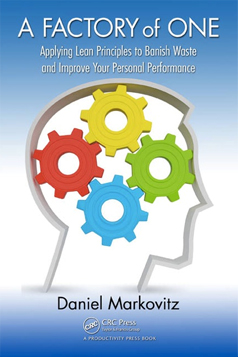 In A Factory of One, you focus on eliminating wasteful activities (being "lean") so you can focus on value add. Can you explain what you mean from a sale perspective?
DAN: Sure. As a seller, you have two customers -- your employer and your clients. From your employer's perspective, your value-added activities are simple: building relationships with prospects, selling to them, and maintaining those relationships.
From your client's perspective, your value-added activities are also pretty simple: identifying their problems and figuring out how to solve them. Period. Anything else is waste.
Now, take a look at your calendar. What additional activities are you doing? What meetings or conferences do you attend? What reports are you filling out? If these activities don't further the five activities listed above, they're waste.
Now, some of that waste is unavoidable, but it's still waste, and you should therefore figure out how to minimize the amount of time spent on them.
How else can a salesperson use "lean strategies" to increase their sales time management?
DAN: "Lean" is all about figuring out how to do more of your value-added activities with less effort. So it's really a problem-solving approach, with some well-defined methodologies to get there.
If you identify your problem as not enough time to prospect and service clients, then we can use lean tools—standard work, visual management, flow, etc.—to figure out how to get you more time.
If the problem you're solving is errors in processing orders, we can use lean strategies to find the root cause of those and enact countermeasures.
Lean strategies improve processes, and sales, like most of business, is a process.
You stress the importance of checklists. How does that help people? And, how could salespeople use them on a regular basis?
DAN: Checklists are wonderful devices to standardize and error-proof repeatable processes. They ensure that you don't forget key tasks. I know of a private equity firm that uses checklists so that they don't miss any critical items of due diligence when investing in a company.
As a salesperson, you can use checklists to ensure that you're asking the necessary questions to transform implied needs into explicit needs. Or you could use a checklist to make sure that you record all the important notes you want to maintain in your CRM system.
Checklists aren't shackles limiting your creativity; they're tools to relieve you of the burden of remembering, so that you can be more creative.
Thanks, Dan. And if someone would like to learn more about your new book, what should they do?
DAN: I'd suggest they start by reading the first chapter.
I agree! Here's the link to download the first chapter of a A Factory of One. Check it out right away.