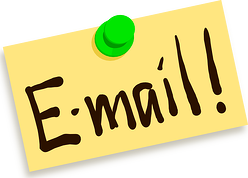 Sales prospecting via email can be really tough. But honestly, some people create their own problems - as you'll soon see.
Today's post comes from "Ken," one of my all-time favorite clients. Normal human beings (otherwise called prospects) would never put up with the sales behavior you'll see below. They'd delete Brian in a nanosecond. But Ken is curious as to how this seller will respond so he continues the e-dialogue.
As you read through the exchange below, keep track of the mistakes you find!
Hello Ken,

I am not sure if the information I have on file is still accurate but I am the new Account Manager for YourCompany @ XYZ Corp.

Would it be possible to get your "vcard" and a description of what you do so I could have a better understanding.

Please let me know as I would really appreciate the information.
Ken writes back: "You can learn about my work on my Linked In profile and also on our web site."
Great thanks for the email. I'll look into that. Now that you have my contact I wanted to know how we can do business and I could share with you our portfolio technology.

I am not new at XYZ Corp. Have been arround for sometime and from what I understand on your account is that no one was really involved!!!!
Ken responds: "I would appreciate it if you learned more about me and what I do prior to showing me your technologies. I have very limited time on my hands."

Thanks for the heads up maybe I got carried away by the excitement of working on such a great company. And instead of just talking about our solutions, I would like to meet and better understand your role, issues and how I can develop a better working partnership.

Or maybe you would want to refer me to someone else? Thanks in advance I appreciate it.
End of dialogue.
Question: What prospecting mistakes did the seller make? And, what could he have done differently to get his foot in the door? Share your comments.