LinkedIn Sales Secrets Revealed
---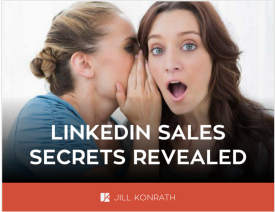 Check out these actual stories of how top sellers leverage LinkedIn to get more business. You'll discover how:
Robbie J. won a $500,000 contract after being told he had no chance.
Thomas V. generates 58% of his revenue via LinkedIn groups.
Jill R. gets big payoffs from her thought leadership strategies.
and much more...
* You'll also get Jill's sales articles, read by over 145,000 sellers worldwide, delivered straight to your inbox.