CRAP Selling Manifesto
---
It's Time to Cut the Crap! Seriously.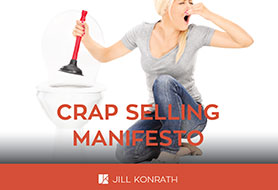 The last thing you want to do is stink up the sales process. When you sign up, you'll get:
CRAP Selling Manifesto, a fun but serious look at what it takes to win deals today.
CRAP Detector Cheat Sheet, a quickie guide to flush away offensive language.
CRAP One-Sheeter, a great summary to ensure you never sell like crap. (Suitable for framing.)
Get these crappy resources now.
* You'll also get Jill's sales articles, read by over 145,000 sellers worldwide, delivered straight to your inbox.